Today's Waiting on Wednesday is On the Come Up by Angie Thomas. She's spent over 70 weeks on the NYT bestseller list with The Hate U Give, which is about to be a blockbuster film this November. I thoroughly enjoyed her debut novel and cannot wait to get my hands on this second book!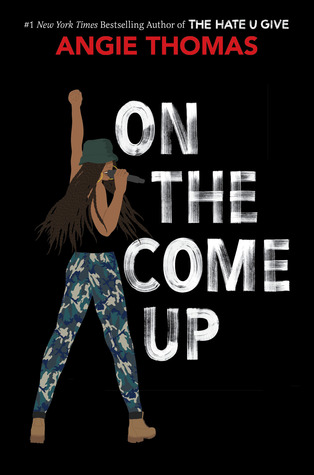 Title: On the Come Up
Author: Angie Thomas – Website
Published By: Balzer + Bray
Publishing Date: February 5th, 2019
Pages: 320 pages
Genre: Young Adult, Fantasy
Summary:
Sixteen-year-old Bri wants to be one of the greatest rappers of all time. Or at least make it out of her neighborhood one day. As the daughter of an underground rap legend who died before he hit big, Bri's got big shoes to fill. But now that her mom has unexpectedly lost her job, food banks and shutoff notices are as much a part of Bri's life as beats and rhymes. With bills piling up and homelessness staring her family down, Bri no longer just wants to make it—she has to make it.
On the Come Up is Angie Thomas's homage to hip-hop, the art that sparked her passion for storytelling and continues to inspire her to this day. It is the story of fighting for your dreams, even as the odds are stacked against you; of the struggle to become who you are and not who everyone expects you to be; and of the desperate realities of poor and working-class black families.
PreOrder Links:
Amazon / Barnes and Noble / Book Depository / iTunes / Kobo / GooglePlay
Why I'm Waiting:
I am very excited to get my hands on the sophomore novel by the explosive debut author, Angie Thomas. Her novel, The Hate U Give, has been on the NYT bestseller list for 77 weeks and counting, most often at the #1 spot, only temporarily being dropped when a release from a popular author is released before bouncing back up again. Her novel is fantastic, touching on a subject that is, unfortunately, happening way too often and a subject that makes so many people uncomfortable, they refuse to talk about it. Angie writes such human stories and I know that she will do this again with Bri and her mom, their struggles and her dreams. I know its not entirely the same, but I feel a connection with the way Angie writes about POC, as a Mexican girl who grew up fairly poor and dreaming of more. I am eagerly counting down the days until this book comes out.
*******************
Support us on Patreon for only $1 a month to gain access to monthly exclusive interviews, ARC and signed book giveaways, reviews for books I DIDN'T like and more by following the link here.