Welcome back to the blog and another fantastic interview! I am excited to welcome E. Katherine Kottaras to the blog. She is a friend and I honestly could listen to her talking about writing for hours; she's just so inspiring and smart as hell. Her two contemporary novels are SO good, emotional and unique and one of them is up for grabs in the giveaway!
ABOUT E KATHERINE KOTTARAS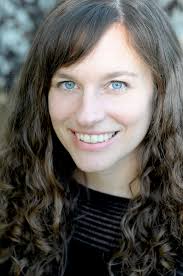 E. Katherine Kottaras is originally from Chicago, but now she writes and teaches in the Los Angeles area. She holds an M.A. in English from the University of California, Irvine and teaches writing and literature at Pasadena City College. She is interested in the stories we tell, the stories we are given, and the ways we can redefine our worlds by discovering which stories are true.
She is the author of the YA contemporary novel, HOW TO BE BRAVE (2015) and the forthcoming THE BEST POSSIBLE ANSWER (2016), both from St. Martin's Press/Griffin Teen.
You Can Find  Her At:
Website | Twitter | Instagram | Goodreads
HER BOOK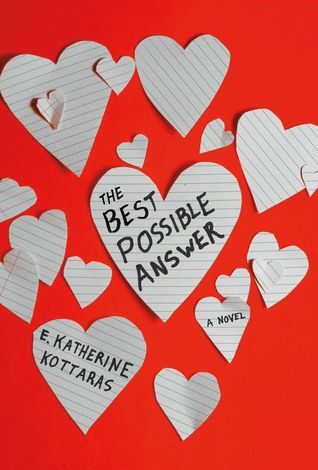 Super-achiever Viviana Rabinovich-Lowe has never had room to be anything less than perfect. But her quest for perfection is derailed when her boyfriend leaks a private picture of her to the entire school—a picture only he was supposed to see. Making matters worse, her parents are getting divorced and now her perfect family is falling apart. For the first time, Vivi feels like a complete and utter failure.
Then she gets a job working at the community pool, where she meets a new group of friends who know nothing about her past. That includes Evan, a gorgeous guy who makes her want to do something she never thought she'd do again: trust. For the first time in her life, Vivi realizes she can finally be whoever she wants. But who is that? While she tries to figure it out, she learns something they never covered in her AP courses: that it's okay to be less than perfect, because it's our imperfections that make us who we are.
You Can Find Her Book At:
Amazon / Barnes and Noble / iBooks / Book Depository/ Goodreads
THE INTERVIEW:
Nerd Girl: Tell us a little about your books. Where did the inspiration come from to write such emotional stories? Why were these the stories you had to tell?
Kathy: Many writers talk about books that are the "stories of their hearts." My first book, HOW TO BE BRAVE, was most definitely that since it is told through the eyes of Georgia, a Greek-American teenager whose mother passes away. My father died when I was seventeen, and my mother died when I was thirty, so much of the story, in terms of its exploration of grief and loss, identity and love, came directly from my heart and my life. HOW TO BE BRAVE is about a girl who has lived her life in fear and who sets out to try new things, despite her insecurities. Before her death, her mom commanded Georgia to live differently—to try everything at least once and to never be ruled by fear.
My second book, THE BEST POSSIBLE ANSWER, is equally the story of my heart. Viviana is a driven honors student and the daughter of a Russian-Jewish immigrant mom and an American engineer dad who have extremely high academic expectations for her. As a result of both these expectations and an exposing mistake Viviana made in sharing a nude photo with her boyfriend (who proceeded to send it to the entire school), Viviana suffers from severe anxiety and panic attacks.
I am both first- and second- generation American (my father immigrated from Greece in 1952; my mother's parents, who were Jewish, immigrated from Russia in 1913), so I am always interested in the unique pressures of being the child of immigrants, as many of my students are, and as Georgia and Viviana are, too.
Nerd Girl: Did you intend to write YA  literature or did you fall into it?
Kathy: Both! I'd been writing in secret for years – fiction, essays, poetry, and more – I became a fan of YA when I was teaching high school, and I was reading authors like Laurie Halse Anderson and Walter Dean Myers along with my students. Like many writers, I was inspired to tell a story that I wasn't seeing in the YA canon. HOW TO BE BRAVE specifically started as a thought experiment to see what my relationship with my dad would have been like had my mom died first. As I started writing, Georgia became her own character with her own struggles. Like me, Georgia also feels uncomfortable in her body that's deemed "overweight" (I put that in quotes intentionally) by society's standards, and part of her storyline is that she finds confidence in her body, as it is – that losing weight does not equal being brave. This has definitely been part of my storyline has well. Furthermore, as Georgia discovers, there are many different ways to live a life of courage – whether it be by skydiving or taking a trapeze class (numbers 3 and 4 on Georgia's list), by learning how to draw or dancing to your heart's wild content (numbers 6 and 10), or by reaching out to others in their time of need (not on the list, but equally important). I hope this book encourages readers to reflect on their own fears and to face life bravely.
Nerd Girl: You've made a point of saying how important writing for girls is to you. Is this something that you are consciously aware of when you're writing? What sort of messages do you try to convey to young girls, if any?
Kathy: I always say that I am interested in the stories we tell, the stories we are given, and the ways we can redefine our worlds by discovering which stories are true. In other words, I love starting with questions, and I am drawn to characters who are complicated and sometimes confusing – maybe even frustrating – the ones who do not fully understand their worlds yet, but who set out to find their voice. Historically, teens who identify as female have been silenced and/or pressured to be silent for way too long, and I'm interested in writing characters who challenge that history.
Each book teaches you something new about the makings of your own mind or your understanding of the world. With every book I write, this is most definitely true for me. I am increasingly learning to trust my instincts, to stand up for myself, and to stay true to my voice, both in my writing and in the world. It's not an easy thing in a world that runs on sexism, racism, homophobia, and other forms of bigotry –  and I hope that when readers finish reading my books, they will feel inspired to speak out and change the world as best they can.
Nerd Girl: What are some of the pros and cons of being a teacher of literature and writing in regards to your own writing?
Kathy: Joan Didion said, "We write to discover what we think." This speaks the core of my experience as a writer, and it's a thought that I share with my students repeatedly. Whether I am teaching creative writing, literature, or composition, I want my students to begin from a place of inquiry. I want them to see writing as an exploration, a journey of discovery, a path towards knowledge.
I also think it's important to be honest with my students when discussing how horribly frustrating that process can be. I tell them when I'm experiencing writer's block; I show them my rejection letters; I let them know that I, too, cry sometimes when the words just will not come. I've always believed that my role as both a writer and a teacher is not to proselytize, that my role is to guide and to question. That being said, I do try to live by example, which to me means showing my own vulnerabilities as a human being who's trying to figure it all out. I find that students appreciate hearing about these experiences, that when I share my own frustrations, they feel more comfortable sharing their own and thereby figuring out ways to deal with them and get their words on the page.
Nerd Girl: You live in Los Angeles now but grew up in Chicago, which you say is the setting of both of your novels. What kind of impact did growing up in Illinois have on your life and in your writing?
Kathy: The last time I traveled back home, I found that the ability to talk to strangers might be uniquely Chicagoan. There, I can walk down the street and find that I'm suddenly engaged in deeply personal conversations with an absolute stranger – and yet it's only in Chicago that the absolute strangers don't find it absolutely strange! Sometimes if I try to talk to strangers here in L.A. or other places, there's the first moment of awkwardness and that slightly annoyed look of why are you talking to me? Happily, their confusion often fades after they realize I'm not going to steal their wallet or try to sell them on a time-share, and soon we're chatting it up, like we've known each other forever. As a teacher, it's a useful superpower to have, since it allows me to engage with my students who might be feeling nervous about being in college for the first time. As a writer, it allows me to be in the world. I'm somewhat of an ambivert, which is half-introvert, half-extrovert. While I need my alone time, I also need to be around people, even if it's with the people at the grocery store.
Nerd Girl: Are you working on anything new at the moment? Can you tell us anything about it?
Kathy: Yes! I am SO excited about this next book. It's a YA fictional account of Victoria Woodhull, who was the first woman to run for president in 1872, campaigning on a radical (for the time) platform of women's rights to self-determination that included a call for universal suffrage, fair wages, and most controversial of all, free love. I'm almost done with the first draft, and as it stands now, it's told from the POV of Victoria at age 14 in 1853, her sister, Tennessee, at age 18 in 1865, and her daughter, Zula Maud, at age 16 in 1872.
Nerd Girl: What do you think are some of the best parts of YA literature and the YA community?
Kathy: I think that the reason why so many people (including me!) love to read YA is because the novels usually focus on a moment of intense change, and though we've been sold the story that once we hit a certain point, we are "adults," the truth is we are continuously facing intense moments of change and growth throughout our lives. I think that YA novels are a way for readers of all ages to reflect on those experiences.
The YA community is the ABSOLUTE BEST. From the readers to the teachers, librarians, booksellers, and of course, the other writers, everyone is incredibly supportive and kind. We hold a shared commitment to the power of story, and so we cheer each other on in all kinds of wonderful ways!
Nerd Girl: What is the best writing advice that you received that you can pass along?
Kathy: READ. A lot. Both in the genre/style you want to publish in and ABOUT writing – all aspects – the writing process, the publishing process, etc. There are hundreds of blog posts about the writing life, etc. and I read them obsessively to understand what I had to do to get published.
Also, WRITE a lot, of course. Just keep writing, no matter what, even if it's a journal for yourself where you write a little bit everyday. And keep submitting – the rejections are difficult at first, but it gets easier. Stay curious about the world. And stay open. And always, always, always have fun. If you are having fun, it means you are still in love with the process. As Maya Angelou said, "You can never be great at anything unless you love it."
GIVEAWAY:
There are many prize packs up for grabs, with one that includes a copy of Kathy's The Best Possible Answer! The giveaway runs until June 4th and is open internationally!
*********************
Support us on Patreon for only $1 a month to gain access to monthly exclusive interviews, ARC and signed book giveaways, reviews for books I DIDN'T like and more by following the link here.