For those of you who may not know, I recently came up with a list of 40 things I want to do before I'm 40 years old, which you can read here. I just turned 32 so that's 8 years to accomplish these things and I think I can do it. One of those things is watching the entire Disney animated catalog from beginning to end, which is a serious undertaking. It has been made SOOOO much easier since the beginning of Disney+ – at least I have access to them now! I'm planning on writing little short reviews in chunks, five to six movies at a time, so hold on tight, let's do this!
If you'd like to read the reviews for the first six movies, you can do so here.
THE SECOND SIX!
Saludos Amigos (1942) – watched 1/26/20
This is a movie I have never seen before and honestly had no idea what it was even about. It's four shorts and I love them all. It was full of so much culture – I honestly was so surprised. I think we thought for so long that disney was either completely white washed OR when it did have other cultures, it was inappropriate, racist, stereotypical, not okay. But this didn't feel like it all. It felt like an introduction to South American cultures through characters we know like Donald and Goofy. There was so much that wasn't even in English and it was just so…normal. It's extremely short, maybe 45 minutes, but all four shirts were so good. Highly recommend this as a watch, especially if you're stuck in the white washing of Disney. I was so pleasantly surprised by this one. 
Victory Through Air Power (1943) – Watched 3/7/20
Okay first off – I watched this on YouTube and it was NOT the best quality in the world. Frankly, it's definitely considered an animated film because it's animated but it's a work of nonfiction and I was sort of bored. I think that if aviation is something that you're interested in, the history of it and all that, you probably will enjoy it. I definitely particularly enjoy it. It was also in black and white which felt sort of disappointing after the colors of Bambi and Dumbo. It's definitely informative and would be amazing for anyone doing a project on aviation, planes or pilots. It's also animated very well as well. 
The Three Caballeros (1944) – Watched 3/22/20
The movie started with a story about penguins and let's be fair, you can't go wrong with me and penguins. It was such a cute little story and omg I recognized sterling Holloway – who was the original voice of Winnie the Pooh, amongst many others. I really enjoyed the entire movie though. It definitely got weird toward the end but in general, as a Latina, I truly enjoyed it. I love the education it gives to Latin American cultures, especially Mexico at the end. I did think Donald was a little bit of a horn dog as the movie went along haha but genuinely the music was so great, I really enjoyed it. I love the traditional dances they showed in Mexico. It was so bright and vibrant and it was honestly so enjoyable. It's not one that I've seen before but it's one I know, and I love the Three Caballeros in Its A Small World but I'm so glad to have finally seen it and finally have context for it!
Make Mine Music (1946) – Watched 3/23/30
I was reading up on this one because this is one that I also had to find on YouTube – it's not on Disney plus, unless it's on there as individual stories but I'm not sure. It's ten individual stories, including Peter and the Wolf and Casey at Bat, which I have definitely seen separately but there were a lot of them that I had never seen before. It felt a lot like Fantasia, with various little stories set to music. There was another little short story with a pair of hats that was kind of cute too, that think I remember. I definitely enjoyed them. From what I understand, this movie was put together during the war to make a full feature length film. I think I would enjoy them separately instead of just watching them all at once. But there are definitely some strong little animated shorts in here that I super super enjoyed. 
Song of the South (1946) – Watched 3/23/20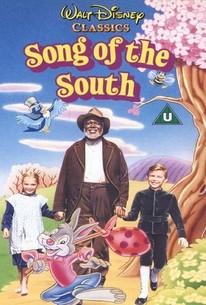 I have never watched this in my life. I have seen Zip-a-dee-doo-da because of Disney Sing-A-Longs and I know some of it because of Splash Mountain at Disneyland but this movie is not exactly the easiest to find. I was determined to watch some of it. There are bits and pieces of the movie on YouTube and I watched what I could and honestly…I'm probably good on never having to watch this movie in its fullest. Sure, does it have its moments? Absolutely. There were parts that were definitely silly – Brer Rabbit is kind of hilarious. But the characterizations of Brer Fox and Brer Bear were so so bad and don't even get me started on the tar baby. I watched what I could and moved on. 
Fun and Fancy Free (1947) – Watched 3/23/30
This movie is two animated features in one. The first one is about Bongo the circus bear who wanted to be free and in the wild and away from the circus. The music in this is absolutely fantastic and the animation is so bright and beautiful. Bongo is adorable. Of course, shenanigans happen and the bear who didn't feel so loved and pampered suddenly realizes that the outdoors isn't quite what he expected because he doesn't know how to act like a bear. Its absolutely adorable. The second feature was the story of Mickey, Donald, Goofy and the beanstalk which I absolutely remember from when I was a child and I absolutely love it. It was fun and its a story we know really well and I love seeing characters like Mickey in those stories. I super enjoyed both of the features here and I would 10000% watch it again, no problem.
~*~*~*~*~*~*~*~*~*~*~*~
HAVE YOU SEEN ANY OF THE ABOVE MOVIES? WHAT ARE YOU THOUGHTS ON THEM? SHARE IN THE COMMENTS!