To celebrate the release of Catching Fire on Blu-Ray and DVD this week, sickness Finnick Odair is our FCotW!
Character Name:
Finnick Odair
Book or Series They Appear In:
The Hunger Games Trilogy
The Hunger Games (no appearance), Catching Fire, Mockingjay
Author/Creator:
Suzanne Collins
Played By: 
Sam Claflin
Who They Are:
I'm going to remind you guys again because I"m still getting complaints. My FCotW's WILL be spoiler filled. Sorry. I've warned you so much time haha. 
Finnick Odair is a tribute participating in the 75th Annual Hunger Games from District 4. He is a former Victor, the youngest when he won at 14. He's a Capitol darling, dating his way through the many attractive people that live there. He is reaped into the Hunger Games from the existing pool of Districts, and this is where he meets Katniss and Peeta for this first time. They don't trust him right away, shying away from having allies in the Games, but when Finnick saves Peeta's life (more than once), they become allies. Finnick is rescued along with Katniss and taken to District 13 to become part of the rebellion. We learn more about Finnick, how he was used as a slave to the Capitol and that he's been in love with a mad girl named Annie for years. They marry, and we find that Annie is pregnant with his child before he leaves to the Capitol to complete the rebellion. In the end, Finnick Odair dies, fighting against the Capitol.
Why I Am Crushing On Them: 
Yes, Finnick is the good looking one of the book, and he's charming and he's all that but Finnick is more than just a fictional crush to me. He's my favorite character in the entire trilogy. At first, you really think of Finnick as this sort of shallow, Capitol darling, with a new date every week. But as the story goes on, Finnick becomes a much more complicated character. He's a fighter, absolutely brilliant with his trident and he fights hard in the Games, and its no question why he won his Games. He's amazingly loyal. He spends so much of the Games protecting Mags, an elderly woman, even though he probably knows deep in his mind that she's not going to survive.
But he's also so extremely complex. He is charming and funny, and extremely attractive but there are demons hidden below. He's in love with Annie, another victor who went a little mad after her own victory in the Games. He was used by the Capitol, paraded as nothing less than a sex slave, basically, as blackmail to keep those he loves safe. The moment where he sits in front of the camera and spills the secrets of all these important Capitol people is incredible. There's just so much more under the surface of Finnick Odair, which makes him my favorite character. He's what you least expect. You think you have a handle on him and he continues to surprise you throughout the entire trilogy and its beautiful.
And yes, okay, Finnick is totally beautiful too. He's walking around, young and fit, with a small piece of fish nets to cover his private area and he's beautiful. Then they get the super nice and charming and handsome Sam Claflin to play him (and boy, did he rock it), and its just all one great package.
Notable Quotes:
He looks down at his legs as if noticing his outfit for the first time. Then he whips off his hospital gown leaving him in just his underwear. "Why? Do you find this" — he strikes a ridiculously provocative pose — "distracting?"
"Want a sugar cube?" he asks in his old seductive voice."
"No." A long time passes before he adds, "She crept up on me."
"That I knew I misjudged you, that you do love him. I"m not saying in what way. Maybe you don't know yourself. But anyone paying attention could see how much you care about him."
"Oh Peeta…don't make me sorry I restarted your heart."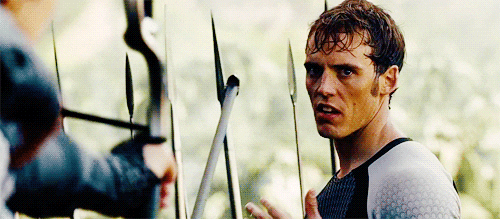 Hey, its me and Sam!
Me and Sam Claflin talking about Disneyland at the Catching Fire fan camp :)
*      *      *      *      *      *