Being a new fan of Wonder Woman – I really became obsessed when I watched Gal Gadot in the 2017 – I had NO idea that today was a very very important day!
Scrolling through Instagram, I stumbled upon Lynda Carter – the iconic actress who played Wonder Woman on the pivotal 1970s TV show – and her post about the 78th anniversary of Wonder Woman's first appearance!
While I am admittedly a newer Wonder Woman fan, this does not lessen the fast that Wonder Woman means a lot to me. When the movie came out in 2017, I immediately went out and saw it and when I walked out of the theater, I was filled with both elation and sadness. Elation because I had just seen a movie that I truly truly loved, that had made me laugh and cry and have a blast. Sad because it shouldn't have been such a remarkable thing. Even still, I immediately became a Wonder Woman fan. I love her strength, her intelligence, her ability to be emotional, her kindness and her humor. She is important to me, she is one of my heroes.
Wonder Woman would continue to be important to me when I was diagnosed with type 2 diabetes and started a journey to become healthier and more fit. I signed up for the inaugural Wonder Woman 5K in Los Angeles on a whim and because of that, it led me to this love of running. I don't know that I would've done it if it wasn't Wonder Woman themed.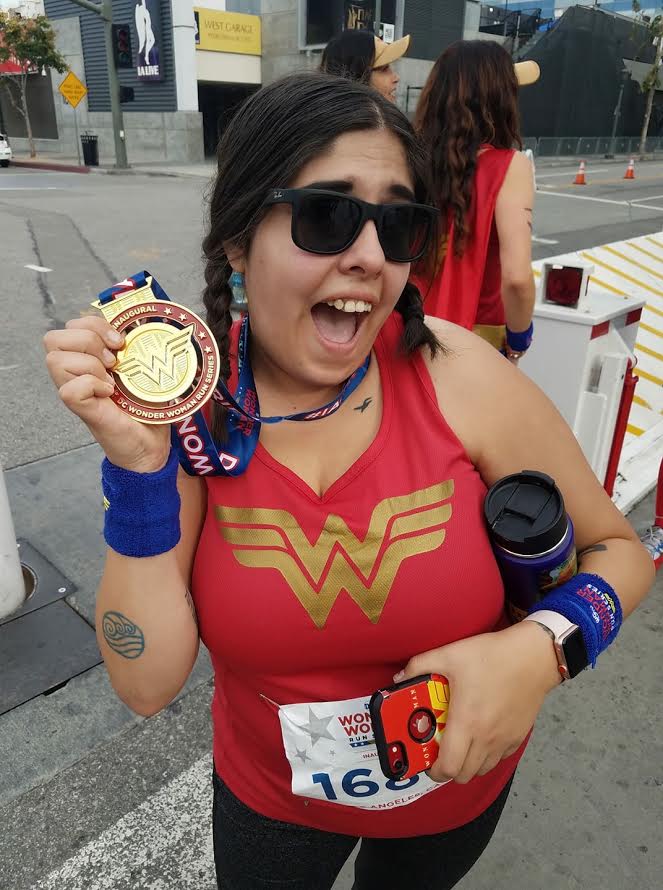 Wonder Woman has been around for 78 years and I think there's something amazing about that, that a female character was created long before we made an outcry for strong female characters. She is the forerunner of all the characters we love today and has continued to remain popular, just as popular as her counterparts like Superman and Batman.
Happy Anniversary Wonder Woman! Here is to many more years of kicking ass, taking names, saving the world, falling in love, helping wherever you can and inspiring girls of all ages everywhere.