Today is National Superhero Day and I am SO here to celebrate that. I love anything superhero – mostly Marvel – but just superheroes in general. Superheroes bring out the best and worst in human nature and even though most of the time, superheroes have special powers or access to technology that makes them super, they are still human characters and I think that's a huge reason that comic book superheroes have stood the test of time, over decades!
Now, let's be real, I'm super partial to my female superheroes but I definitely have a lot of love to go around. I want to share some of MY favorite superheroes today and I'd love to hear what yours are so make sure to share in the comments!
Captain Marvel
I will be honest – my knowledge of Captain Marvel, originally Ms Marvel was minimal at best when her movie came out in 2019. However, I'm a huge Marvel fan as a whole and I was just so excited to finally have a female led movie and I avoided all trailers and teasers and stills and ended up watching it in theaters about 7 times because I was so in love. She has easily become my favorite superhero. I love her attitude, her powers, her humor, her self confidence, her love for Maria and Monica, her willingness to listen, her open mind. I LOVE HER.
Wonder Woman
Wonder Woman was someone I always adored because who couldn't absolutely adore the TV show with Lynda Carter, and that ridiculous Invisible Jet haha, so I was really excited for this movie. I was also excited because this was in 2017, so way before Captain Marvel and I was like, we are so overdue for a female led superhero movie. I fully became obsessed at that point because that movie is SO good and Wonder Woman is a badass, strong, powerful, intelligent and able to beat the crap out of people in an admittedly sexy outfit. I'm here for it.
Ironman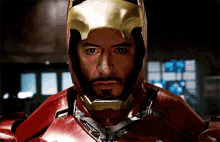 I had NO idea who Ironman was, really, prior to the movie coming out in 2008. My ex was a huge Spiderman fan so I knew some things and I think I'd heard the name but I didn't know much more than that. The movie made me fall more in love with the Marvel universe AND made me a huge Tony Stark fan. I appreciate everything about him, the good and the bad, because he's such a human character, with flaws and mistakes and doing the wrong things while trying to do the right things, and all of that. I'm so sad he's gone in the MCU now.
Winter Soldier/Bucky Barnes
When I did eventually start reading comic books, I jumped into Captain America fairly easily because he's such a huge, iconic character. Because of that, I did get a lot of interaction with Bucky/Winter Soldier and when they cast the adorable Sebastian Stan, I was hooked, line and sinker, into his story. Having just finished the first (of many, I hope) season of Falcon and Winter Soldier, I'm just more in love with him as a character. Yes, part of that is because Sebastian Stan is so damn adorable – his smiles are so swoonworthy – but also because his character development over all these movies and tv show is just brilliant.
ShadowCat
I LOOOOOOOOOOOVED the X-Men cartoon growing up and Kitty Pryde was never in that show, as far as I was aware but when the movies came out and Eliot Page played the character, I was like, WHO IS THIS?! I immediately started reading all of the stuff I could for Kitty Pryde and now she's, hands down, my favorite X-Men character. I only hope that we can see more of her in the future, but we'll see…
Ms Marvel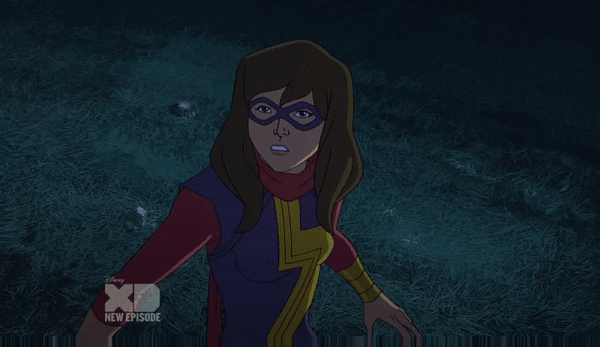 I probably would have fallen in love with Ms Marvel eventually – teen Kamala Khan who takes up the mantel, inspired by Carol Danvers as Captain Marvel – but I'm glad I discovered her in the super fun animated movies, Marvel Rising. I love having a superhero that's both a female and a person of color and I love that she's connected to my fave – Captain Marvel. She's super fun in the cartoon movies AND production on her tv series through Disney+ is wrapping up and we're hopeful her show will be here by fall. I'm MORE than ready for it. She's also confirmed to be appearing in the second Captain Marvel movie too!
Ironheart
This was another character that I discovered through the Marvel Rising movies. I actually saw HER movie at a panel at WonderCon and I knew of the character but omg, I was so sold. Again, a female superhero that was a person of color who was super smart, smart enough to recreate the Ironman suit for herself. She's an absolute badass. I wish I knew more than I did about her story but I recently bought some comics AND she too is getting her own television series via Disney+ and I'm SOOOOOO excited for it.
Squirrel Girl
I learned recently that Squirrel Girl isn't loved that much when it comes to the many superheroes with the Marvel fandom and that just makes me so confused and irritated because Squirrel Girl is the best. She dresses like a squirrel and has squirrel friends and is a total goober and is so much fun and should have her own movie or TV show but likely won't – though apparently at one point, it was optioned and cast, incidentally, with the actress who does her voice in the Marvel Rising movies. She's so silly and I love it, she's a breath of fresh air in the dark stories that often come with the Marvel universe.
Dreamer
Nia Nal aka Dreamer was created for the Supergirl TV show, which was kind of nice because I didn't feel like, oh god, I have no idea what her story is. She's pitched as the ancestor of an already established DC character but other than that, she stands on her own. I will admit – I am biased because I adore Nicole Maines and I think its absolutely wonderful that not only is Dreamer a transgender superhero but she's also played by a transgender actress. I love that they convey how important that is in the show but its not the crux of who Nia is – she stands on her, both as a person and as a superhero who helps Supergirl. She's honestly the best and became one of my favorite parts of the show.
Scarlet Witch
Scarlet Witch was another character that I didn't know much about until she appeared in the movies and tried my best to get to know more about after I saw her in Age of Ultron. She's such a powerful character, an emotional one, and can toe the line back and forth between good and email. She's complicated and I love that and I think Elizabeth Olsen portrays her so well. I love that they kept fleshing out her character in later movies and that she eventually got an absolutely fantastic TV show. I recently bought some comics my sister recommended to me so I can't wait for more from Wanda and her story!
~*~*~*~*~*~*~*~*~*~*~*~
What are your favorite superheroes? Share them in the comments!