After 430 days, I finally returned to Disneyland and it was just as magical as I had hoped it would be!
The last time I was inside Disneyland park was on February 24th of 2020, just a few days before my birthday. I always go to Disneyland on my birthday – its tradition – but last year, we went to Seattle to celebrate so we went a few days earlier. If I had known it was the last time…well, I'm not sure. Disneyland wouldn't close until March 12th but when I came back from Seattle, I was SO sick for a week or so AND it was raining the last couple of days the park was open. I remember thinking, I don't want to get sick AGAIN and, its fine, the park will be open again soon.
Little did I know…
I was lucky enough to go one day prior to the official grand re-opening as a guest of a cast member during cast member preview. I won't go into detail about who that cast member is because, honestly, as a prior cast member myself, I hated when people found out and started bugging me to get them, their sister, their dog, their dentist into the parks. Let's just say – I was a guest and I am so grateful for it, as the tickets I bought are reserved for May 17th and I'm so glad I didn't have to wait or my envy for those going on opening day would have been out of control lol.
Getting to return to the parks was a truly magical experience and I was so glad to share it with my sisters, Dink and Jess. Both are big Disney fans like myself and I'm really close to them and since Dink moved to Arizona, we really haven't had a girls day and I love spending time with them. I was emotional from the moment I drove into Mickey and Friend's parking structure, walked along the tram route to the front gate and made my way through the turnstiles into the park for the first time. I was wearing a mask the whole time, of course, and sunglasses due to the bright, bright day it was but if you could see through them, you would have seen the tears in the corners of my eyes and the insanely wide smile on my face. Walking onto Main Street, seeing Mickey and Goofy and other characters waving to us all and seeing Sleeping Beauty castle at the end – it was like instant therapy. I could feel my shoulders loosen, I could feel my worries floating away. I miss this park SO much!
The day was SO hot, of course, because that's absolutely my luck. I made sure to wear a lot of sunscreen and both of my sisters brought extra, which I highly recommend because shade is definitely limited. In order to keep things safe, most of the ride queues are outside so sunscreen is an absolute must. I made sure I had a comfy mask – a Disney cat mask, actually – and I brought my insulated water bottle into the park, which is great because there are refill stations and drinking fountains EVERYWHERE. I luckily had decided to wear an Ahsoka t-shirt and shorts, paired with my Ahsoka backpack, and stayed relatively okay throughout the day. I got SOOOOO many compliments on my Ahsoka gear and my Ahsoka tattoo.
Honestly one of the best parts of being back in the park was being able to go on all my favorite rides again and having wait times that reminded me of the time when I first got my annual pass, all the way back in 2005. The lines were SO short and I was HERE for it. I saw a lot of people complaining about lines but I think there's a lot of misunderstanding with that. For one thing, there are markers on the ground to keep parties six feet apart while waiting in line SO the lines look longer than they actually are. For another thing, as I mentioned above, majority of the queue is outside, in order to keep as little interaction inside during a pandemic. For example, Space Mountain's entire queue was outside – the moment you entered the inside queue, you walked the entire way to the boarding area, with no wait at all. It was brilliant and man, I am going to MISS this when the park is able to open to full capacity again!
I had to stop and looking at a map to figure out how many rides we ended up getting on in one day. We entered the park around 10 am and stayed til park close at 7 pm. (We did stay until about 830, shopping on Main Street). We ended up getting on – Indiana Jones, Pirates of the Caribbean, Haunted Mansion (my favorite), Winnie the Pooh – twice, Smuggler's Run, Big Thunder Mountain Railroad, the new Snow White's Enchanted Wish, Peter Pan's Flight, and Space Mountain, which is absolutely insane, honestly. You could never do that on a normal day, in that little of time. It was so fun being back on the rides and I felt adequately distanced and safe the entire time. You often got an entire vehicles to yourself, with several empty vehicles in between you and the next party. Plus all of the rides seemed that much more fun after it being SOOOO long since the last time you rode them. I would recommend doing the rides you super want to do FIRST, get any wait times out of the way and then just spend the rest of the day going on anything with a short wait time because, trust me, there are a ton of short wait times.
We unfortunately were unable to get on Rise of the Resistance, despite me having fast fingers and getting boarding group 43. The ride spent most of the day shut down and they didn't call us, group #43, until 530 pm! By time we got over there after eating some Dole Whips, it was 615 and the line was over an hour and none of us wanted to spend the rest of our time in the park waiting in line so we all decided to skip. It was a little disappointing but as all of us had been on it before, it wasn't the end of the world.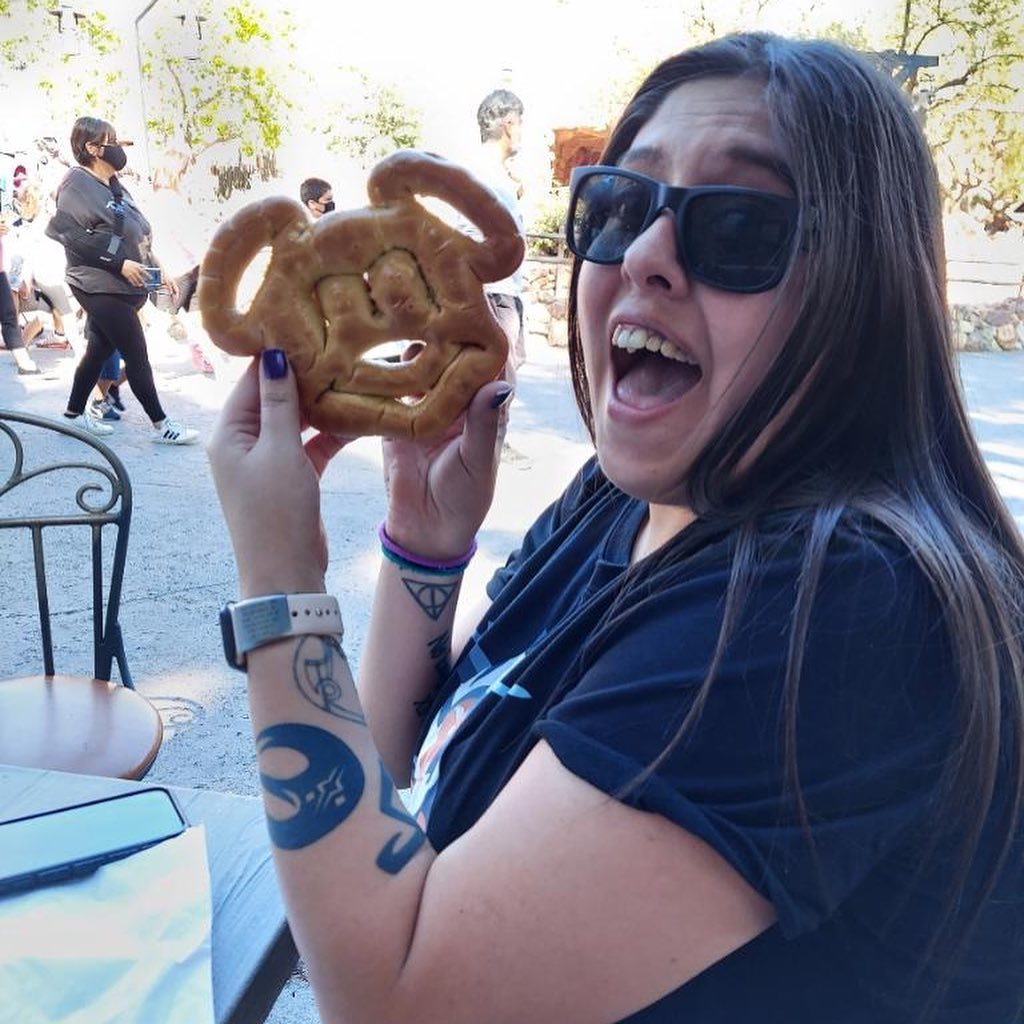 Of course, you can't forget Disney food. I had one main goal – to get my  hands on a Mickey Pretzel and then also get my hungry hands on a Dole Whip and a Mint Julep and I accomplished all of the above. We also ate lunch at Galactic Grill in Tomorrowland. The good part of Disney food is that its Disney food and I was happy to be enjoying my favorites again. You can get some of that kind of stuff elsewhere but it just isn't always the same!
On the other hand, and it wasn't detrimental to our day or anything, but the food can cut into your time in the park if you don't plan accordingly. Most everything is mobile order and can take some time. The best advice I have for you – plan ahead! Honestly, do all of your mobile ordering when you first get there – plan out your snacks and your meals ahead of time so that when you do want it, it's already secured. Waiting might put your pick up time later and later and if that happens, time slots can run out and you'll miss out on eating your favorite snack. We weren't totally aware of this so there was some wait times and all that with getting snacks but when I passed this advice along to a friend who spend opening weekend at the parks, she said it was SO helpful and they were able to plan out their days so I highly recommend it!
Side note – if you are a Legacy Passholder – a person whose annual pass was valid on the day of closure, March 12th 2020 – make sure its linked on your app! When you do mobile orders, it'll automatically apply your discount and you do not want to miss out on that!
I did do a bit of shopping! Part of that was because Main Street, as always, remained open an hour after park close and I did NOT want to leave yet so I roamed the Emporium and picked up a really cool Disneyland shirt and a Captain Marvel pin to add to my ever growing collection. I also added on one of the tiki bowls when I got my dole whip since there are FOUR different ones and I hadn't started collecting them yet when the park closed. But my main goal for the day was getting Bride and Groom hats, embroidered with our wedding date, at the Mad Hatter. Daniel and I are going to the park in just a couple of weeks but I wanted my hands on these, PLUS I got the pretty little cast member discount that saved me a TON of money on these hats. I'm SO happy with how they came out and I can't wait to wear them!
Of course, if you don't have a cast member friend in your life, but again, if you're a Legacy Passholder, make sure to use it! The discount has been extended until May 31st and honestly will probably continue to be extended until the new pass program is announced at the end of this year.
Honestly, the hardest part of the day was LEAVING. I didn't want to go! Before, when I was a passholder, you could leave without even thinking about it because you'd be back again so soon. Sure, I'm going again in two weeks and sure, I'll probably get whatever the new annual pass is – if its affordable – and sure, with the new loosened restrictions about tattoos, I hope to be a cast member again once more but it was still so hard to leave. I felt SO happy and relieved and amazing all day being back in the park and I didn't want to lose that feeling. I think all four of us lingered for a long time for the same reason, even my little sister who was going back the very next day. It did feel very different.
I will say – be prepared to walk at the end of the night! We are so used to being able to grab a seat on the tram back to the structure at the end of a long day, when your feet are tired and hurting, but not at this time! The trams are not running for the time being and you do have to walk the tram route back to the structure and back to your car. It is longer than you think so definitely save a little energy at the end of the night for that. Honestly, I felt so sad leaving, I didn't even feel the rush to get to the car and get home!
Luckily, Daniel and I will be going back to the park in exactly TWO weeks, which I am SOOOO insanely stoked about. I want to do the things I missed this time around – beignets and Small World and hopefully getting Daniel on Rise of the Resistance for the first time. We'll probably even recreate our proposal in front of the Millennium Falcon and confuse the heck out of people like we did at Universal Studios a few weeks ago. I can't wait! I'm SO happy the magic is back and here's to hoping that the new pass program is doable so that I can be back in my happy place once more!
ARE YOU GOING BACK TO DISNEYLAND ANYTIME SOON? HAVE ANY QUESTIONS ABOUT THE PARKS DURING COVID? ASK AWAY!