Yay! Another fantastic interview with another equally fantastic YA author. Today is yet another of my amazing OfTomes siblings, buy Jennifer Wilson. Jennifer's book, sales New World: Rising, came out just after mine did and its absolutely FANTASTIC! I'm so happy to have her here today on What A Nerd Girl Says!
ABOUT JENNIFER WILSON 
As a child Jennifer loved getting lost in the stories of others, but struggled greatly with reading. A notoriously slow reader who stumbled with words and spelling, Jennifer shied away from books, leaning heavily on musical theater and movies to get her inspirational fix.
It was not until in her mid-teens, when a persistent friend convinced her to read the Harry Potter series, that Jennifer found her love for the written word. J.K. Rowling's books opened doors not only to the fascinating world of a young wizard, but to a life filled with a multitude of literary friends and fantastical worlds. Once a timid reader, Jennifer now devours books and loves getting lost in a new series.
When Jennifer is not writing, she is enjoying life in Colorado, rock climbing, camping, exploring new foods, playing with her golden retriever, Duke, and sharing her life with her wonderfully supportive husband.
You Can Find Her:
Her Website / Her Twitter / Her Facebook / Her GoodReads / Her Instagram
HER BOOK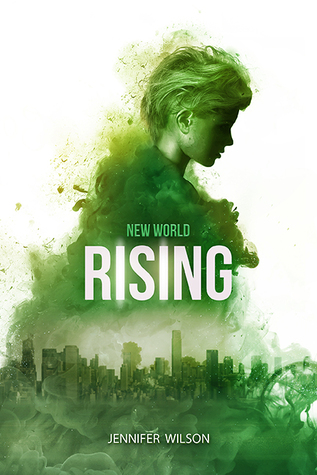 Add Jennifer's epic dystopian novel on GoodReads and purchase it in ebook or paperback format on Amazon. 
Since witnessing her parents' murders at the age of eleven, Phoenix's only purpose in life has been to uphold her mother's dying words- to be strong and survive. But surviving outside of The Walls- outside of The Sanctuary- is more like a drawn-out death sentence. A cruel and ruthless city, Tartarus is run by the Tribes whose motto is simple, "Join or die."
Refusing to join and determined to live, Phoenix fights to survive in this savage world. But who can she trust, when no one can be trusted? Not even herself.
HER INTERVIEW
Nerd Girl: Why do you write YA?
Jennifer: YA is my absolute favorite genre both to read and to write. It has infinite possibilities and has more sub-generes than most writers could ever dream about. YA is generally also packed full of emotions and desires that a reader of any age can relate. The YA perspective tends to focus on pivotal points in both the readers' and the characters' lives when they are truly figuring out who they are and who they want to be. I find so many of these books both inspired and inspiring. I only hope my books are perceived the same way.
Nerd Girl: What are some of your own favorite YA reads?
Jennifer: I recently devoured The Lunar Chronicles like a maniac and of course adore anything Harry Potter. Some of my other favorite YA reads include: the Legend series by Marie Lu, The Darkest Minds series by Alexandra Bracken, The Fault in Our Stars by John Green, and The Mortal Instruments series by Cassandra Clare. I have also fallen in love with Victoria Aveyard's Red Queen series and have been reading all of my Oftomes siblings' books like a crazed book nerd—there is so much talent there!
Nerd Girl: What do you think is a big misconception about YA and why do you think its wrong?
Jennifer: That it is only for Young Adults. YA is for every age! For a long time a lot of my friends were embarrassed to admit they loved YA, but the truth is a large majority of YA readers are well over the age of 25.
Nerd Girl: Why do you think its important to have a "I Read YA" week?
Jennifer: There are way too many closet YA readers out there. It is time to admit you love YA and be proud! You might be surprised that most of your friends do too.
Nerd Girl: Describe your latest work in five words or less. 
Jennifer: Death—closer than you think. (You will find out more about this work soon! Stay tuned to Oftomes!)
Nerd Girl: You have been self published before and now are officially published through OfTomes; what has been your experience with both?
Jennifer: Having done both—self-publishing first and now being published under Oftomes—I can honestly say there can be benefits and downfalls to both. I am very lucky that I happen to click really well with the Oftomes team and couldn't be happier under their name. But I do know not every published author is happy with his/her publishing agency. Finding the right publisher for you is extremely important, as you are essentially trusting them with your baby. I have learned so much about the literary world as a self-published author and adored getting to know my fans on such a personal level, but now that I am with Oftomes, I also get to focus more on writing which is that part I love most. Honestly there is no right or wrong when it comes to how you publish, it just needs to be what suits you best. Here's the most basic break down I can give you:
Self-Publishing Pros:
Your profit is not cut to pay an agent or publisher, so you earn more money from each individual sale
You have total freedom with what you write, your timelines and graphics
You get to know your fans on a more personal level
You have more control over your book
Your book will definitely be published, trends be dammed
Self-Publishing Cons:
You have to front all of the money for things like review copies, editing, cover design, ISBN numbers and advertising
You have to handle all of the marketing
It is harder to get your name out there
Sales are generally lower than that of a professionally published book
You must wear many hats other than just a writer— you must be your own marketing director, agent, publisher and editor.
Spelling errors are more common
Nerd Girl: Talk to us about your trilogy; where did the idea for it come, where did you get the inspiration?
Jennifer: I have always had a bit of an overactive imagination. My mind tends to wander and being a very visual person, I generally get these flashes of scenes­—a girl on a rooftop, an action-packed fight sequence or an impassioned kiss.  From there, my mind melds around these moments and a basic plot begins to develop. As the plot matures, so do my characters.
         New World: Rising was born out of an epiphany moment for Phoenix. I could see this girl racing on rooftops, hiding in the shadows, being kind of a badass. The opening scene in the first book is the moment Phoenix was born in my mind, a dark shadowed figure standing on the ledge of a building as her hair whipped around her face in the wind, the city below her in ruin. The world just spiraled out from there, shaping around her.  I wanted to write about a girl who could take care of herself, who was just as tough as the boys and preferred to rescue herself rather than be recused. But of course she is not without her flaws. It was important to me that she—and all of the other characters—were still human, relatable and made mistakes.
*********
Thank you so so so much Jennifer for joining us on What A Nerd Girl Says! We are all dying for the sequel to New World: Rising and can't wait to hear what else you're working on!
Don't forget, everyone, head to my instagram to find out how to enter my super epic giveaway, including two YA contemporary ARCs and a TON of signed swag!