I am so insanely excited to have Sarvenaz Tash as the first of many awesome author interviews and guest posts this week in celebration of I Read YA Week! I absolutely love this week! I write YA and read YA and am incredibly passionate about it all. I hope you can join in all week for the celebration and you MUST check my instagram for the epic giveaway I'm having this week! Yay!
For now, patient let's meet Sarvenaz!
ABOUT SARVENAZ TASH! 
Sarvenaz Tash was born in Tehran, illness Iran and grew up on Long Island, viagra NY. She received her BFA in Film and Television from New York University's Tisch School of the Arts. This means she got to spend most of college running around and making movies (it was a lot of fun). She has dabbled in all sorts of writing including screenwriting, copywriting, and professional tweeting. Sarvenaz currently lives in Brooklyn, NY.
You Can Find Her:
Her Website / Her Twitter / Her Facebook / Her GoodReads / Her Instagram / Her Tumblr
ABOUT HER BOOK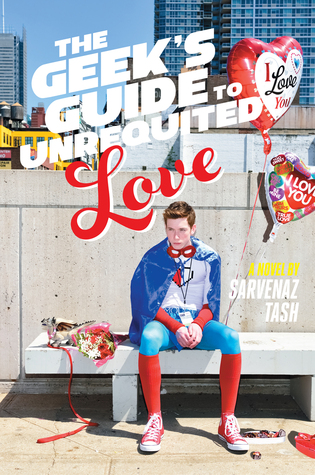 This book releases on June 14th. I have already read an advanced copy of it and I absolutely LOVED it! The nerdiness and the romance and all of it was just so great. Definitely add it on GoodReads and preorder it on Amazon and Barnes and Noble now! 
Peter Parker and Gwen Stacy…
Archie and Veronica…
Althena and Noth…
…Graham and Roxy?
Graham met his best friend, Roxana, when he moved into her neighborhood eight years ago, and she asked him which Hogwarts house he'd be sorted into. Graham has been in love with her ever since.
But now they're sixteen, still neighbors, still best friends. And Graham and Roxy share more than ever—moving on from their Harry Potter obsession to a serious love of comic books.
When Graham learns that the creator of their favorite comic, The Chronicles of Althena, is making a rare appearance at this year's New York Comic Con, he knows he must score tickets. And the event inspires Graham to come up with the perfect plan to tell Roxy how he really feels about her. He's got three days to woo his best friend at the coolest, kookiest con full of superheroes and supervillains. But no one at a comic book convention is who they appear to be…even Roxy. And Graham is starting to realize fictional love stories are way less complicated than real-life ones.
THE INTERVIEW 
Nerd Girl: Why do you write YA?
Sarvenaz: I've always loved coming-of-age stories. I also think there are just so many inherent and universal themes/problems/realizations to mine when it comes to those all-important teen years. No matter who you are, you never forget them.
Nerd Girl: What are some of your favorite YA reads?
Sarvenaz: I have a lot. Just off the top of my head: The Art of Lainey for contemporary romance. Gilt for sweeping historical. Aristotle and Dante Discover the Secrets of the Universe for gorgeous heartfelt romance. Of course, I will have a thing for Harry Potter as steadfastly as Snape did for Lily!
Nerd Girl: What do you think is a big misconception about YA and why do you think its wrong?
Sarvenaz: That it's somehow lesser than books for adults in terms of complexity or range. I think YA encompasses every genre under the sun and some of the most timeless, beautiful, heart-wrenching books I've ever read have been YA.
Nerd Girl: Why do you think its important to have a "I Read YA" week?
Sarvenaz: It's always nice to know you're part of a community of book lovers. And it's ALWAYS great to get book recommendations!
Nerd Girl: Describe your latest work in five words or less. 
Sarvenaz: John Hughes at Comic Con.
Nerd Girl: Music has a huge influence in your novel, Three Day Summer. Did you listen to music while writing? What did you listen to?
Sarvenaz: I don't always listen to music while I'm writing (though I usually have one song or more that I associate with a character or book). However, that book was a major exception. I absolutely listened to as many of the actual setlists as I could get my hands on while I was outlining and writing the book. It really helped bring me into the mindset of the characters since I had the luxury of actually hearing what they heard.
Nerd Girl: I absolutely LOVE your new book, The Geek's Guide to Unrequited Love. Have you had any amazing moments at a fan convention before?
Sarvenaz: Thanks so much! I have had lots of funny and memorable moments at conventions (a lot of which made it into the book in one way, shape or form). One of my favorites happened at my very first New York Comic Con. My friend and I were trying to get to a panel room, as slowly but surely the crowds started to get heavier and heavier. I'm fairly short and a little bit claustrophobic so at one point, I was definitely feeling uncomfortable at how slow and suffocating it was getting. Meanwhile, my friend was trying to figure out what hot-ticket event we had accidentally stumbled upon. It took about ten minutes of shuffling through the crowd before we reached the sign that told us what that event was: speed-dating. As I always like to put it, I was almost trampled by nerd love! (And we missed our panel, by the way!)
*******
Thank you so much for hanging out here on What A Nerd Girl Says, Sarvenaz, and we all can't WAIT for your book to release this summer! Don't forget to check out more interviews and posts this week for I Read YA Week, and to head to my Instagram to win some epic prizes!