Hello everyone! Welcome to the second interview of the I Read YA week extravaganza! I am having all kinds of awesome interviews and guests posts with over twenty epic YA authors and I have a fantastic giveaway happening on my instagram so make sure to check it out!
Today's interview is with the amazing Victoria Scott!
ABOUT VICTORIA SCOTT
Victoria Scott is the author of seven novels including Titans (Spring 2016), viagra order Violet Grenade (Summer 2017), viagra  the Fire & Flood series, cheap and the Dante Walker trilogy. She is published by Scholastic and Entangled Teen, and is represented by Sara Crowe of Harvey Klinger Literary Agency.
Two of Victoria's novels, Salt & Stone and Titans, have received starred reviews, and Fire & Flood was nominated as a YALSA Teens' Top 10 book for 2015. Victoria's novels have been bought and translated in eleven foreign markets. The author currently resides in Dallas, and loves hearing from her readers.
You Can Find Her:
Her Website / Her Facebook / Her GoodReads / Her Twitter / Her Instagram
HER BOOK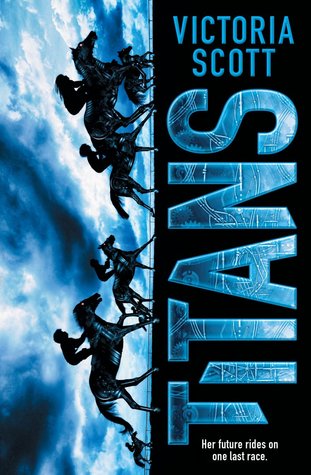 Add this book on GoodReads and purchase it at your local bookstore, or Amazon, Barnes and Noble or Book Depository!
Ever since the Titans first appeared in her Detroit neighborhood, Astrid Sullivan's world has revolved around the mechanical horses. She and her best friend have spent countless hours watching them and their jockeys practice on the track. It's not just the thrill of the race. It's the engineering of the horses and the way they're programmed to seem so lifelike. The Titans are everything that fascinates Astrid, and nothing she'll ever touch.
She hates them a little, too. Her dad lost everything betting on the Titans. And the races are a reminder of the gap between the rich jockeys who can afford the expensive machines to ride, and the working class friends and neighbors of Astrid's who wager on them.
But when Astrid's offered a chance to enter an early model Titan in this year's derby, well, she decides to risk it all. Because for a girl from the wrong side of the tracks, it's more than a chance at fame or money. Betting on herself is the only way she can see to hang on to everyone in the world she cares about.
THE INTERVIEW
Nerd Girl: Why do you write YA?
Victoria: I write YA because it captures so many experiences that are raw, and new.
Nerd Girl: What are some of your own favorite YA reads?
Victoria: I adore Courtney Summer's This is Not a Test, and I'm reading and loving Susan Ee's Angelfall. Why have I waited so long to read that book?
Nerd Girl: Why do you think its important to have a "I Read YA" week?
Victoria: Because YA bookshelves have some of the most unique, heart-wrenching, pulse-pounding stories. And can we talk about the swoon-worthy characters? Yes, let's do. *pours a cup of coffee*
Nerd Girl: Describe your latest word in five words or less.
Victoria: Titans: Girl rides robotic horse
Nerd Girl: I absolutely loved Titans; the idea of these metal horses and the incredible races…I wish they were real! Where did you get the idea for it?
Victoria: I got the idea from an Acura commercial, actually. Check it out:
Nerd Girl: What were some of the hardest things about combining the fantasy of the Titans with the contemporary world?
Victoria: I think the challenge was keeping the horses and races real enough to believe, but fantasy feeling enough to capture readers' interest. Did I succeed? ;)
*******
Thank you so much Victoria for joining us here at What A Nerd Girl Says for I Read YA week!
Don't forget to head to my instagram for the giveaway and keep an eye out for more epic interviews and guest posts later this week!