We have reached the halfway point of Ms. Marvel season one and a lot has happened in episode three to really open up the story and tell us what to expect, what could happen next and where exactly we are going with Kamala's story and I know I keep saying it, but I'm super enjoying it, guys. I've already been a huge Ms. Marvel fan for ages. I finally got a new shirt this week – took forever to get here – and I managed to track down Ms. Marvel in Avengers Campus at work and I was totally stoked.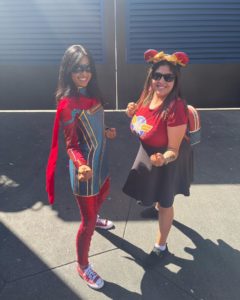 Let's jump into episode 3!
AS A REMINDER – THIS POST WILL DEFINITELY INCLUDE SPOILERS!!! IF YOU DO NOT WANT TO READ SPOILERS, PLEASE COME BACK AND READ LATER!