Apparently I am in a super romantic mode right now because I am continuing the romantic Tuesday Top Tens. I got the idea for this one from my dear author friend, Erin Albert, who read last week's top ten and suggested something very similar to this one that I am doing right now.
I liked the idea because there are so many movies and books, TV shows, etc, where you wait and wait and wait for that moment, the moment that we've been building up to for way too long and when it finally happens, you want to squeal with happiness. Or there are those scenes that surprise you out of no where and you're suddenly blushing. I love it. I love that a book or movie can make you feel that way and so I'm counting down some of my absolute favorite moments.
Also, most of the pictures that are posted today are fan art pictures, and I tried to find the artists but its really hard to find them when you Google the pictures. If you know who these pictures belong to, please let me know, so I can credit them! Especially since these are so beautiful :)
Here we go:
10. Harry and Ginny-Kiss After the Quidditch Match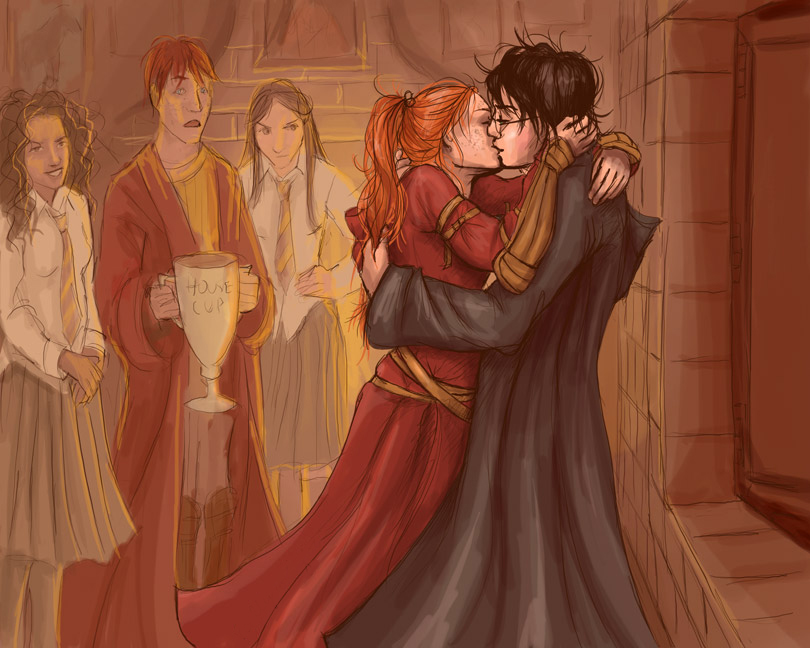 Seriously? I did not see the Harry and Ginny thing coming at all in the slightest. We all knew Ginny had a crush but she moved on, and dated Michael Corner and Dean Thomas and then out of no where, Harry is super in love with Ginny and I was way into it. I feel like I am one of the only people who actually like Ginny and Harry together. I think it was both the most obvious and yet the least obvious thing to happen. And their first kiss was the first romance we really get in Harry Potter. Harry and Cho's kisses are "off screen" and same with Hermione and Krum. Ron and Lavender is just straight up annoying. But Harry and Ginny's first kiss after they win the Quidditch Cup, where Ginny goes sprinting across the common room and into his arms, is SO hot and so awesome. I was so incredibly disappointed in the movie kiss. SO lame. Harry and Ginny straight up have a juicy, beautiful first kiss and the kiss in the movie is too tame for me.
9. Samantha and Jake-After the Wedding
When I was a young teeny bopper, from the age of about 12-18, I loved this movie with a huge passion. It still remains a movie that I adore but in high school? This was MY movie. I watched it so many times that even now, I can quote it on command. This moment in the movie is always the one that gets me every single time. Not the moment where they're sitting on the table, and blowing out the candles and the kiss. This one. I remember seeing it for the first time and getting so excited. You're not expecting it and Samantha is totally not expecting it and the music starts and Sam is so excited because the boy that she's madly in love with is waiting outside the wedding for her, and you're just filled with happy tummy bubbles. Plus, Jake Ryan was so hot. So so hot. I loved the name and he was so yummy to look at it and I so wanted to be Molly Ringwald and I just adore this moment.
8. Jace and Clary-City of Glass Moment
This moment (spoiler if you haven't read these books) when Jace comes to Amatis' house, after walking alone for hours, to tell Clary what they've both known all along? I die. Every single time. Jace is about to leave, to track down his father and kill him, to stop the war from happening and he has to tell Clary before he goes. He has to tell her. And at this point, we still believe Clary and Jace to be brother and sister, and I know I was shipping incest SO hard. When Jace cuts Clary off and says "There is no pretending. I love you, and I will love you until I die, and if there is a life after that, I'll love you then." Literally my favorite quote in the entire series because you're just like, YES FINALLY! They can both stop denying it. Of course, then we learn that they aren't actually brother and sister, and they can be together, but this is my moment. Its such a simple sweet moment, and Jace and Clary sleep together in the bed, barely touching, and its so simple, and it doesn't have to be overly sexy to be perfect.
7. Magnus and Alec-First Kiss
This is an outside story, taking place during the events of City of Bones, but written as supplemental material. Alec is one of my absolute favorite characters in the Mortal Instruments series and I admire Cassandra Clare so much for including LGBT characters in her novels. I love the relationship between Magnus and Alec and the dynamic and all of that, and when I discovered that there had been a story written of their first kiss, I loved it. I was so happy, and I'm happy to hear that there will be more of Alec and Magnus in the Bane Chronicles. But this story of Alec's first kiss ever is amazing because its so…real. Alec is so awkward and unsure, and he's fumbling around and when Magnus kisses him, he reacts in such a cute and awesome way, and then he grabs Magnus and plants a messy kiss on him….its just too much for my Malec feelings to handle haha. And Godfrey Gao (who is playing Magnus in the movie) confirms that this scene WILL be in the movie. Oh.My.God.
6. Scarlett and Rhett-Dance at the Bazaar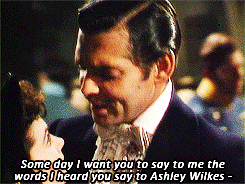 I LOVE this moment. Its one of my absolute favorite parts in the book and the movie. I love that Scarlett is so different. I love that she wants so badly to be a pretty, popular, perfect Southern Belle but she isn't. She's not overly attractive, but she's feisty and flirtatious and selfish and she likes to break the rules. When she's in mourning for a husband she most definitely didn't love and just wants to dance, its hard not to feel for her. I know, you should feel some sympathy for dead Charles Hamilton for a woman who married him and didn't even care about it. But well, Charles is dead and Scarlett is seventeen years old and already a widow with a baby. So when Rhett purchases her to dance with him at the bazaar, and she's not allowed to and yet she screams out "Oh, yes I will", I just died. Its SUCH an amazing part. And they dance together all night. I think this is the moment when they both SHOULD have realized they were meant to be, and it was such a beautiful moment they shared, scandalizing all the respectable families of Atlanta.
5. Percy and Annabeth-You Dropped This
My Percy friend, Deb, would totally appreciate this, and we constantly fangirl about this part together. It took five books in the Percy Jackson series for Annabeth and Percy to finally get together, and then in the Heroes of Olympus series, we don't get to see Percabeth until the Mark of Athena because they have been separated. That was just too hard to handle. So every little interaction, every kiss, every conversation is just too cute for me in Mark of Athena…in all the good ways. I just really love this part because it's so…its so Percy and its so hilarious and its always so ridiculously romantic. Annabeth is being attacked, along with Hazel and someone else, I can't remember, and she drops her dagger in the water because she knows Percy is in the ocean. Percy leaps out of the ocean, with the dagger, to save her, but says in a straight face "You dropped this." Demigod in shining armor. Then Annabeth throws her arms around him and tells him she loves him and its just one of those moments that we had been waiting for for so long.
4. Will and Tessa-Balcony Scene
Okay, Cassandra Clare built up this scene for ages. She referred to it as the Dirty Sexy Balcony Scene and released a tiny little snippet to tease us about it and I was like, can this scene really be that good? Then I read Clockwork Prince, and I was practically panting by the end of this scene. We had been waiting to see some affection from Will for so long, and I was a major Wessa shipper once I had figured out why Will was so mean. I mean, if you thought a demon had cursed you so that everyone you loved and loved you died, you would act the way he would. But he loves Tessa so much that its tearing him apart and he's killing himself trying to find the demon who placed that curse on him. So when this moment happens, I just was so happy. All this build up for this scene and it definitely delivered and it definitely did not disappoint. They both let go of their inhibitions during this scene (okay, and it was totally the punch, but whatever) and it makes for one sexy, beautiful scene.
3. Ron and Hermione-First Kiss
I had to put up this fan art of the scene instead of the movie scene, because even though I actually did like the movie scene, the book scene is better, and this artwork of it just made me crack up so much. I think it was so typical Hermione and Ron, and it took way too damn long to get there. I remember breathing really hard, and I had tears in my eyes and I squealed with excitement. This was a scene that had been built up for so long and when it finally happened, I was so happy. Through all the war, and the dying, and the crying, and all of that that was going on in Deathly Hallows, you had Ron and Hermione finally falling in love and being together, when Hermione realizes how much Ron has changed, how compassionate he is, and how they both just love each other so much. Its such a perfect moment. I really love the book scene because of Ron's concern for the house elves, which everyone knows is SO important to Hermione and she just throws herself into his arms and they have an amazing kiss. Then there's the awesomeness of Harry standing there, like, "Um, guys, there's a war going on…" Such a great moment.
2. Jace and Clary-Seelie Court Scene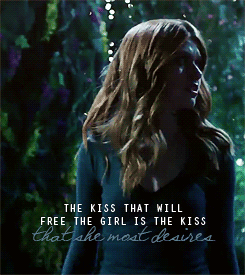 Again with the incest! Seriously, Cassandra Clare, you are such an amazing and talented writer that you got a ton of people to ship incest for two and a half books. We've just found out Jace and Clary are brother and sister at the end of City of Bones and we spend the first half of City of Ashes watching the ANGST of these two characters as they can't even look at each other anymore, because they are so obviously madly in love. We get to the Seelie Court (which is faeries, if you don't know), and the Seelie Queen says Clary has to say because she has consumed some of their drink. The only way to free her is with a kiss. There's a debate on what that means, and Simon, who is kind of dating Clary, tries to kiss her but that's not the kiss that works. "The kiss that will free the girl is the kiss that she most desires". Meaning Jace, of course. And you think, they want to save Clary so Jace'll kiss Clary real quick and it'll be done. But NO, its a gut wrenching, sexy, beautiful, amazing kiss that is so heartbreaking and amazing. Oh god. I love that scene so much. The amount of pain and confusion and emotion that is going through Jace and Clary and Simon and Isabelle and Jace makes this easily one of my VERY favorite scenes. It MUST be in the City of Ashes movie, or I will be SO disappointed.
1. Han and Leia-The "I Know" Moment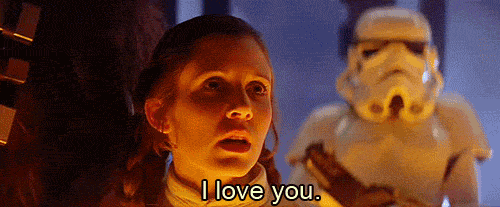 I literally find this to be the most romantic scene EVER. Like, I thought this scene was so incredibly romantic that all I wanted my entire life was to find a guy that would say "I know" to me when I said "I love you". And not the way my high school boyfriend said it. He said it because it was the easiest way for him to completely avoid what I said to him haha. When Jon said it to me, and he had a smile on his face, I so knew I had found the right guy because he was saying it like Han Solo. George Lucas talks about how the original script had Han saying "I love you" back, but after several takes, it just wasn't working. So they decided to just go with it, and this is what came out of Harrison Ford's mouth. And I don't think there could have been any other way for this to work. Its SO Han Solo, and so romantic because he is totally saying it back but in his scoundrel, bad boy ways and I just love it. Han Solo <3 Sigh.
*      *      *
Hope you enjoyed this week's post of the Tuesday Top Ten. Check out the Tuesday Top Ten page for previous lists!
Don't forget to enter my giveaway to win an entire ebook set of the Between the Lines series by Tammara Webber and her standalone novel, Easy!
*     *      *
What are some of your favorite romantic or love scenes in books or movies? Share them below in the comments!