The celebration continues! Ever since I met Abdi Nazemian at the Ontario Teen Book Fest a few months ago, he has become one of my favorite people. He is funny and a blast to hang out with and he is a great friend. His book is up for grabs TWICE in the big giveaway so let's learn more!
ABOUT Abdi Nazemian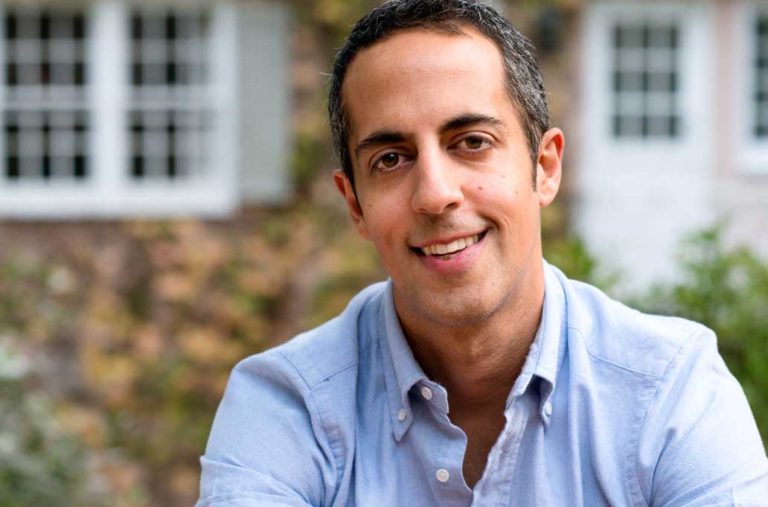 Abdi Nazemian spent his childhood in a series of exciting locations (Tehran, Paris, Toronto, New York), but could usually be found in his bedroom watching old movies, listening to Madonna or reading Archie comic books. He currently resides in Los Angeles with his two children and his fiancé.
As Head of Development for Water's End Productions, Abdi has been an executive producer or associate producer on a number of films, including CALL ME BY YOUR NAME. Abdi has written four produced films: MENENDEZ: BLOOD BROTHERS (Lifetime, 2017), THE QUIET (Sony Pictures Classics, 2006), CELESTE IN THE CITY (ABC Family, 2004), and BEAUTIFUL GIRL (ABC FAMILY, 2003). He also wrote, directed and produced the short film REVOLUTION (2012). He is proud to say that his words have been spoken by the likes of Carmela Soprano, The Nanny, and The Girl With The Most Cake.
Abdi's first novel, THE WALK-IN CLOSET, was released in 2015 by Curtis Brown Unlimited, and was awarded Best Debut at the Lambda Literary Awards. His debut young adult novel, THE AUTHENTICS, was released by Balzer + Bray / HarperCollins in 2017.
Abdi is not the inspiration for Madonna's children's book "The Adventures of Abdi," though he will forever insist that he is.
You Can Find  Him At:
Website | Twitter | Instagram | Goodreads
HIS BOOK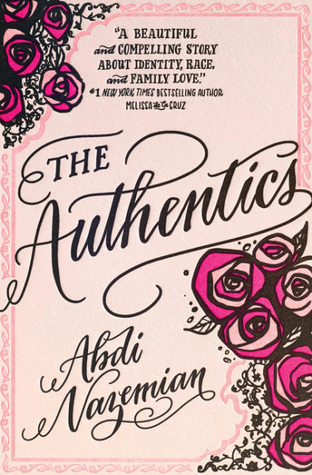 Daria Esfandyar is Iranian-American and proud of her heritage, unlike some of the "Nose Jobs" in the clique led by her former best friend, Heidi Javadi. Daria and her friends call themselves the Authentics, because they pride themselves on always keeping it real.
But in the course of researching a school project, Daria learns something shocking about her past, which launches her on a journey of self-discovery. It seems everyone is keeping secrets. And it's getting harder to know who she even is any longer.
With infighting among the Authentics, her mother planning an over-the-top sweet sixteen party, and a romance that should be totally off limits, Daria doesn't have time for this identity crisis. As everything in her life is spinning out of control—can she figure out how to stay true to herself?
You Can Find His Book At:
Amazon / Barnes and Noble / iBooks / Book Depository / Goodreads
THE INTERVIEW:
Nerd Girl: Tell us a little bit about The Authentics. Where did you get the idea for the book? Why was it THIS book that you needed to write?
Abdi: I knew I had to tell a story that was based in the Iranian-American community, since it's my community and it's so underrepresented or misrepresented. Also, I had my kids via surrogate around the time I was coming up with the idea for this book, so I was thinking a lot about how they would come to define their own identity. Between a desire to depict my community, and a desire to tell a story that was about the piecing together of identity, this book and this character were born.
Nerd Girl: How does your own personal life have an effect on the story and characters you write?
Abdi: The whole reason I started writing books is to tell more personal stories. I've been writing and producing films and television for a long time, and while I love doing it, it's much harder telling personal stories in those mediums. So, when it comes time to write books, I'm all about digging deep into the themes that reflect me and obsess me. In "The Authentics," it's Iranian-American culture, identity, modern families, and a depiction of the very diverse Los Angeles that I know and love. When I give advice to young writers, I often tell them to write about the things that personally obsess them, because you need that level of passion to see a project through.
Nerd Girl: We've talked music together in the past and I can tell its incredibly important to you. Does music have any connection to your novels, whether in the novel itself or what you listen to while you write?
Abdi: Your question is very kind. I think what you meant to say is, "The first time I met you, you wouldn't stop talking about Tori Amos with a fellow YA author who was equally obsessed." (side note: please listen to more Tori Amos) Anyone who follows me on social media knows I fan out hard over music. My favorite musicians have been huge inspirations to me, helping me to work through my emotions. I always listen to music while I write. Each book or script gets its own playlist or artists that I associate with the project. It's especially helpful when I'm writing multiple things at once (which is always) because the music helps get me back in the voice of that piece. My next novel takes place in the era I grew up in, and will be a major homage to my personal queen of queens, Madonna (side note: please listen to more Madonna, especially the deep cuts).
Nerd Girl: Were there any books that you've read that had an influence on The Authentics, whether the story itself or the way in which you wrote it?
Abdi: All the incredible Iranian authors who came before me inspired me a great deal, none more than Marjane Satrapi, whose graphic novel "Persepolis" is one of my favorite books. One author who inspired me to write novels is Armistead Maupin, whose "Tales of the City" series had a giant impact on me as a person and writer. Something about his style of writing, which is always as entertaining as it is deep, really spoke to me. James Baldwin is probably my favorite author. My writing is nothing like his, but he was the first queer person of color whose work I read, and it changed me and helped me define myself. He's a master.
Nerd Girl: Are you working on anything new at the moment? Can you tell us anything about it?
Abdi: I don't think I'm supposed to say too much about it, but my next book will be about three teens who become involved with AIDS activism in the late 1980s and early 1990s. It's very close to my heart, and I can't wait to share it with readers.
Nerd Girl: Did you intend to write YA literature or did you fall into it?
Abdi: My cousin loved YA, and would send me YA books to read, and I remember being so impressed by both the diversity of content and of style. It seemed like a place where people were taking risks and pushing important conversations forward. So YA was already in the back of my mind when my agent suggested I try it. Of course, I try a lot of things that don't work out. But Daria's voice spoke to me from the moment I started this book. So I suppose I intended to give it a try, and then was happy to find myself falling into it. Now I love YA so much, and feel very committed to continuing to tell stories for and about teens.
Nerd Girl: What do you think are some of the best parts of YA literature and the YA community?
Abdi: The diversity in the YA community is incredible, and it exists because readers have demanded it. I really appreciate that. It gives me so much hope to see young people asking for stories about communities they may not know about. Stories are one of the best ways of creating empathy, and when I look at the bestselling YA books, I see a generation full of empathy. I've also been amazed at how friendly the community is. Whether it's readers, fellow authors, editors, or bloggers, everyone in the community is welcoming and inclusive. It never feels competitive, maybe because we're all doing this out of a real passion to tell important stories for young people. And also, it's fun! I mean, just last week, I was at YALLWest, in a blonde wig and one of my daughter's pink headbands, lip syncing to Grease with a group of authors I (with the exception of the exceptional Lilliam Rivera) hadn't even met before. It doesn't get much better than that.
Nerd Girl: What is the best writing advice that you received that you can pass along?
Abdi: On the practical side, a great writer once told me to always keep two documents open on my computer: whatever I'm working on, and a journal. Anytime I feel blocked or frustrated, I go to the journal and spew out my thoughts. Then when I'm ready, I go back to writing my novel or script. The idea of it is just to never stop writing, because the moment you stop moving those fingers, the brain has time to doubt. Also, a friend told me about "The Artist's Way" early on in my writing life. I thought it sounded silly, and I was so wrong. Seriously, get the book, commit to it, and your writing will flourish.
Nerd Girl: Who are your fictional crushes? 
Abdi: Hmm, that's a tough one. I don't know that I have many fictional crushes, especially since I'm usually more drawn to female narratives and characters, and I'm super gay so those are platonic crushes. When I was a kid, I was OBSESSED with Archie comic books, but I don't remember having any sort of crush on Archie, Reggie, Jughead or even Moose. But I was beyond into Betty and especially into Veronica. I would sketch fashion designs for them (I think one of my designs was published in one of the comics, which I'd love to get my hands on!). I guess some of the gay novels I read in my early years might contain some fictional crushes, too. A character like Michael Tolliver from "Tales of the City" stands out to me as the kind of man I hoped I could one day love. But even in those books, I crush harder on the female characters.
THE GIVEAWAY:
There are many prize packs up for grabs, with not one but TWO copies of The Authentics up for grabs! The giveaway runs until June 4th and is open internationally!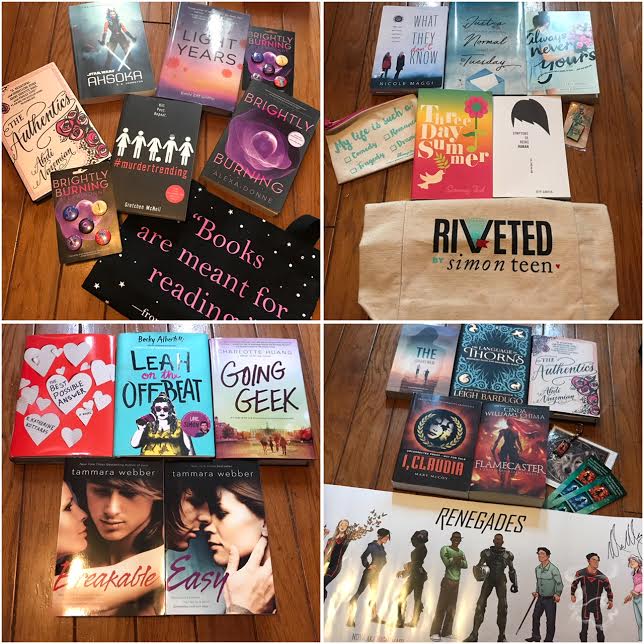 *********************
Support us on Patreon for only $1 a month to gain access to monthly exclusive interviews, ARC and signed book giveaways, reviews for books I DIDN'T like and more by following the link here.