The celebration of What A Nerd Girl Say's sixth birthday continues with an interview with the lovely and inspiring, Emily Ziff Griffin, whose debut novel, Light Years, is absolutely incredible. I've had TWO opportunities to hang out with Emily and she is amazing and I'm so glad to feature her on the blog today.   A signed copy of her novel is up for grabs in one of prize packs in the EPIC giveaway!
ABOUT Emily ZIFF GRIFFIN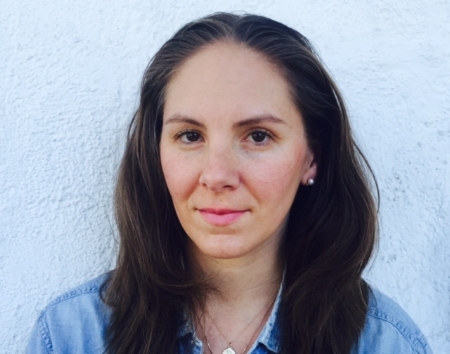 Emily Ziff Griffin lives in LA where she writes, produces, teaches, daydreams, and mothers two young kids. When she was 25, she co-founded Cooper's Town Productions with Philip Seymour Hoffman and produced the Academy Award-winning film, 'Capote,' along with Hoffman's directorial debut 'Jack Goes Boating,' and John Slattery's 'God's Pocket.' She's run three marathons, slowly, and holds a degree from Brown University in art-semiotics, the study of how images make meaning. She believes children are way more sophisticated than adults typically give them credit for and writes for the teenager who is ready to claim their own worldview and be grounded in their own power. 'Light Years' is her first novel
You Can Find  Her At:
Website | Twitter | Instagram | Goodreads
her BOOK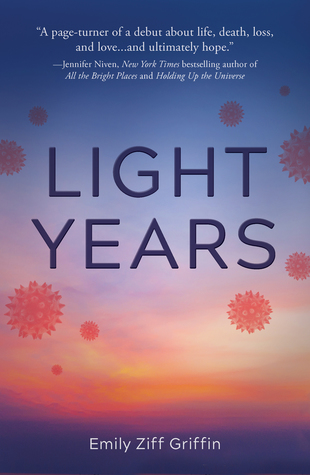 Luisa is ready for her life to start. Five minutes ago. And she could be on her way, as her extraordinary coding skills have landed her a finalist spot for a fellowship sponsored by Thomas Bell, the world's most brilliant and mercurial tech entrepreneur. Being chosen means funding, mentorship, and most importantly, freedom from her overbearing mother. Maybe Lu will even figure out how to control the rare condition that plagues her: whenever her emotions run high, her physical senses kick into overload, with waves of colour, sound, taste, and touch flooding her body.
But Luisa's life is thrust into chaos as a deadly virus sweeps across the globe, killing thousands and sending her father into quarantine. When Lu receives a cryptic message from someone who might hold the key to stopping the epidemic, she knows she must do something to save her family—and the world.
You Can Find Her Book At:
Amazon / Barnes and Noble / iBooks / Book Depository / Goodreads
THE INTERVIEW:
Nerd Girl: Can you tell us a little bit about the back story of Light Years and what influenced you to write it, why it was THIS novel that you needed to write?
Emily: Light Years was loosely inspired by my father having died of AIDS when I was a teenager. I wanted to explore what it was like to live with the terror and uncertainty of his illness, and also write about how I didn't allow my feelings about his disease and death at the time, but then discovered much later that those emotions are the source of my creativity and ability to connect with others—they are where all my power comes from. So my very personal story became an epic adventure about a girl who is initially afraid to feel, but ultimately realizes her emotional self can change the world.
Nerd Girl: Has working in the film industry helped or hindered either your writing itself or your ability to get published? How so?
Emily: It has helped in the sense that I write visually because I am always "seeing" the words on the page, something I learned to do having been a producer for so long and reading so many scripts. I also had the great privilege to work for twelve years with the actor Philip Seymour Hoffman who taught me so much about how to delve deeply into the 'why' of every moment in a story and to use my personal experience to fuel my writing, without getting mired in the literal version of events. He made it clear to me early on that all creative work must be personal and that's something I think about every day—how to bring myself into my work even when the character or situation looks nothing like my own life.
Nerd Girl: When you're writing, do you picture characters made up in your own mind or do you ever self cast with actual actresses or actors?
Emily: I rarely picture actors. I don't know why, but I just don't!
Nerd Girl: Were there any stories, whether novels or movies, that had a profound impact on Light Years, whether it was the story itself or the way in which you wrote it?
Emily: Certainly 'A Wrinkle In Time' was an influence in terms of the themes (light versus dark, good versus evil) and even some of the very broad story elements—a girl on a quest to save her father. I was also inspired by the films 'Contagion' and 'Contact.' Leigh Bardugo's 'Shadow and Bone' as well on the book front.
Nerd Girl: Are you working on anything new at the moment? Can you tell us anything about it?
 Emily: I'm working on a TV adaptation of Light Years and also a new novel that's set at a summer camp, but with a supernatural/big event twist like Light Years. On the producing front I have a beautiful movie called '18 To Party' about 13-year-olds set in 1984 that's currently in post-production.
Nerd Girl: Did you intend to write YA  literature or did you fall into it?
Emily: I fell into it. I always wanted to tell some version of the story of my dad's illness. At some point it hit me that the story I wanted a tell was a story for teenagers. So that's what I wrote. But I really love the genre I think because when you lose a parent as a teenager, part of you freezes at that age. So I have a very direct connection to myself at that age, and that's where I write from.
Nerd Girl: What do you think are some of the best parts of YA literature and the YA community?
Emily: I think the fact that so many insanely beautifully powerful and imaginative stories are being told for the people who are going to shape and inherit the world. That cannot help but empower, connect, and inspire the next generation. That meme about how the Parkland Teenagers were raised on a diet of apocalyptic literature in which teenagers save the world has prepared them for this moment is so right on! And I think the high quality of the stories means that kids can see the value and power of writing and story to communicate, move, inform, and connect and that's a great thing.
Nerd Girl: What is the best writing advice that you received that you can pass along?
Emily: To just keep at it. And to make it personal (see above). Your story matters, and you're the only one who can tell it.
Nerd Girl: Who are your fictional crushes? 
Emily: I was totally in love with Finch in All the Bright Places!
THE GIVEAWAY
There are many prize packs up for grabs, with one that includes a signed copy of Emily's Light Years! The giveaway runs until June 4th and is open internationally!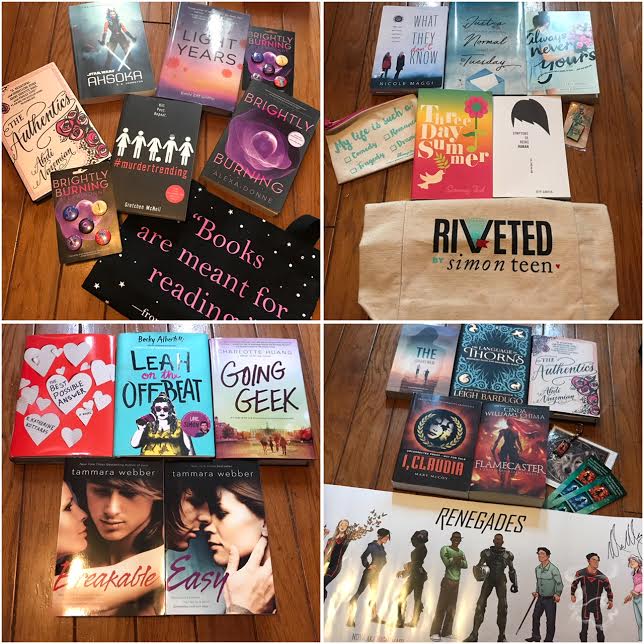 *********************
Support us on Patreon for only $1 a month to gain access to monthly exclusive interviews, ARC and signed book giveaways, reviews for books I DIDN'T like and more by following the link here.