Hello my friends! If you know anything about me, or have followed me over the past ten years, you know that I have a fair amount of tattoos and that most of them are nerd related in some way. I have a ton of Harry Potter tattoos, some Mortal Instruments, a Divergent, Vampire Academy, Six of Crows, Lunar Chronicles, Captain Marvel, Star Wars, Studio Ghibli and so many more. I love getting tattoos and I love my tattoos and I love showing my love for these stories on my body permanently.
My husband and I had talked about getting matching tattoos when we got married and one of the ideas that I had had was the wedding rune from the Shadowhunter chronicles. I didn't think that my husband would go for that LOL! He attempted to read the first Mortal Instruments book ages ago and couldn't get into it and I wouldn't want him to get something on his body that he didn't have a special connection to. Maybe one day…
His biggest fandom, however, is the Legend of Zelda fandom. He's a HUGE fan, its his favorite video games series and Majora's Mask is his favorite game. It's always been something that's very important to him – he has a tattoo on his shoulder of young Link – and its something I've been very slowly getting into and falling in love with. If you want to hear my thoughts on that, you can read my blog post, Experiencing Legend of Zelda for the First Time!
That's when I had the idea for our tattoos – 8 bit hearts! They are connected to Zelda, of course, but also to other video games as well. It's nerdy for the both, has a connection to something that we've shared together and has the added fun of being literal hearts for a matching wedding tattoo haha. We both agreed to add our wedding date and guys, they came out SO great!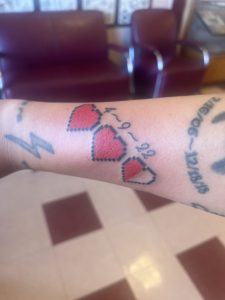 My Tattoo, on my right forearm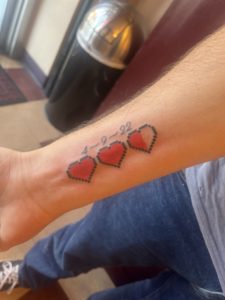 Daniels' tattoo, on his right wrist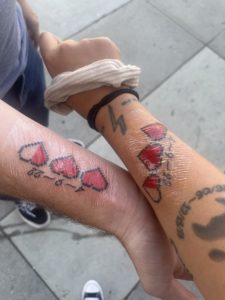 Both of ours together, in our little bandages.
I'm sorry for the crappy quality of the pictures. The quality is really good on my phone and when I downloaded them onto my laptop but they're posting kind of crappy and I can't fix it. If you want to see better photos, check out my instagram.
I know a lot of people might be kind of weirded out about matching tattoos. People often say don't get them and I've definitely been one to say that. I definitely don't think you should ever get a partner's name on you or their face but I'm not opposed to matching tattoos – I'd like to get some with my besties and I'd love to get some with my sisters. And honestly, I feel really good about getting this tattoo with Daniel because I love him and I feel so good and strong about us as a couple and I feel strong and confident in our marriage. I wouldn't have married him if I didn't think we had the capability to last. That's important to me and so I wanted to share that important thing to me on my body, the way I do with everything that is important to me.
The thing is – I want to believe in my relationship, my marriage, and I want to believe that it will last so that it will last. This isn't to throw any shade or judgement toward those marriages that don't last because shit happens and sometimes people are better apart. But I don't like the idea that you shouldn't get a matching tattoo with a partner because what if it doesn't last? I married this man! I chose to spend the rest of my life with him and I believe that this is going to happen and I don't want to ever think negative thoughts about that. I got this tattoo because I believe in our longevity and in our love and in our partnership and I wanted to represent that on my body.
And besides, I just love the tattoo. My tattoo artist, John Troeller at Classic Tattoo in Fullerton, is the best. I've been going to him for over eleven years now and he has done 18 of my 28 tattoos. I trust him completely and he's the only person that I go to nowadays. He did such a beautiful job on both of our tattoos and I'm really happy that I'll get to see it on my arm every single day!
I already have an appointment lined up in September to add more ink to my body and this time, it'll be a tribute to one of my favorite female characters of all time. I won't share it quite yet but if you have any guesses, share in the comments!